Dead Eye Don and the Missing Piano Tuner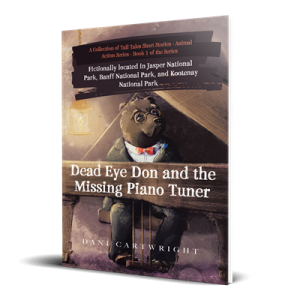 Join Dead Eye Don on his adventure to rescue a naïve piano tuner who's been kidnapped by bears.  The first in a series of short stories referring to the Great Animal Push Back.
This tall tale is a product of the renowned author, Dani Cartwright.
Canadian Quick Link: Amazon.ca: https://amazon.ca/dp/0228851564
Quick Link:  Amazon.com:  https://amazon.com/dp/0228851564
Ebook:  Indigo Chapters:  https://www.chapters.indigo.ca/en-ca/books/dead-eye-don-and-the/9780228851578-item.html
Apple Books:  https://books.apple.com/us/book/dead-eye-don-missing-piano-tuner-dani-cartwrights-collection/id1580145166
Smashwords:  https://www.smashwords.com/books/view/1097972
Barnes & Noble:   https://www.barnesandnoble.com/w/dead-eye-don-and-the-missing-piano-tuner-dani-cartwright/1139980042
Book Depository:  https://www.bookdepository.com/Dead-Eye-Don-and-the-Missing-Piano-Tuner-Dani-Cartwright/9780228851561
Rakuten Kobo:  https://www.kobo.com/ca/en/ebook/dead-eye-don-and-the-missing-piano-tuner